A billion water using minutes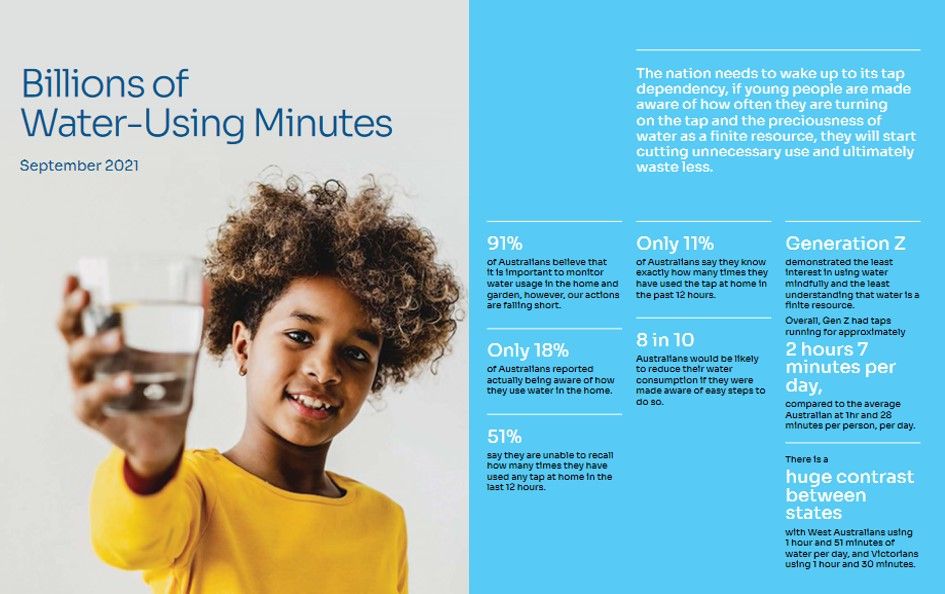 In September 2021, we commissioned a new piece of quantitative research delving into attitudes and actions of Australians around the use of tap water.
It revealed a stark contradiction between our attitudes and actions, specifically how much we say we value water and how we use it.
The research explored generational and state differences in terms of how many minutes they spent using water in different areas of the home.
Key findings include:
Australians have taps running for 12.2 billion minutes a week
The average person running taps for 88 minutes per day – a massive 635 billion minutes per year.
Rinsing items in the kitchen sink and filling up bottles were amongst the top actions that resulted in the most tap use.
91% of Australians believe that it is important to monitor water usage in the home and garden, however, our actions are falling short.
Only 18% of Australians reported actually being aware of how they use water in the home.
51% say they are unable to recall how many times they have used any tap at home in the last 12 hours.
Only 11% of Australians say they know exactly how many times they have used the tap at home in the past 12 hours.
8 in 10 Australians would be likely to reduce their water consumption if they were made aware of easy steps to do so.
Generation Z demonstrated the least interest in using water mindfully and the least understanding that water is a finite resource. Overall, Gen Z had taps running for approximately 2 hours 7 minutes per day, compared to the average Australian at 1 hour 28 minutes per person, per day.
There is a huge contrast between states with West Australians using 1hr and 54mins of water per day, and Victorians using 1hr and 30 mins.
The nation needs to wake up to its tap dependency, if young people are truly made aware of how often they are turning on the tap and the preciousness of water as a finite resource, they will start cutting unnecessary use and ultimately waste less.